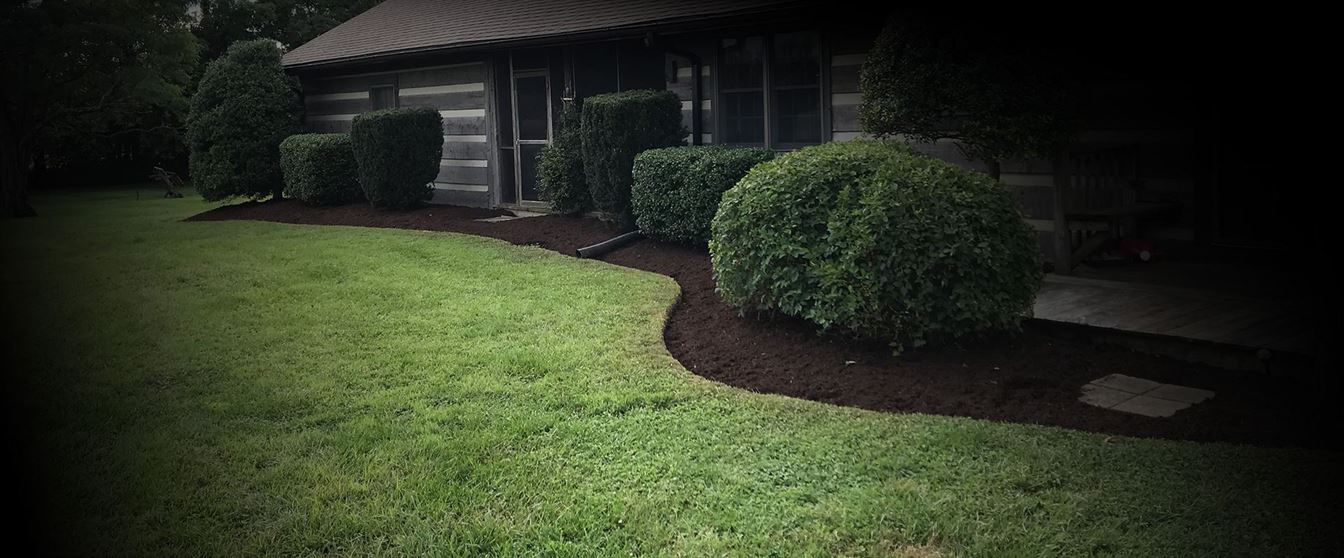 Lawn Care Services in Louisville, KY
Professional Landscapers Helping Your Grass Stay Greener in Jefferson County
Does your neighbor have one of those lawns that just pop out at the eye? Do you find yourself wishing you could get your yard to look that nice? You may have already deduced that your neighbor does a lot more than mow once a week and water the grass regularly. Good lawn care is comprehensive, requiring sustained and consistent effort. The professionals at All In One Landscaping & Hardscaping can help!
Take a look at our previous lawn care projects!
---
A Louisville lawn care professional from our office can do the hard work of making your lawn look beautiful while you relax and enjoy your home. Call us today at (502) 273-5554 or contact us online.
---
Good Lawn Care Should Include the Following:
Mulch: You'll improve the quality of your soil and prevent weeds. This is also a great way to improve the presentation of your yard, with the use of a richly colored mulch, and helping with weed prevention.
Nurture the grass: Notice we don't say cut the grass. Of course, that's a part of any professional lawn care maintenance package, but nurturing goes a step deeper. Your grass must be properly aerated, getting the air and nutrients and needs to survive. It's also important for thatch, a dead plant material that can exist between the blades, to be removed. Thatching and aeration go together in nurturing your grass to full health.
Take care of the soil: We don't see the soil on a daily basis, so it can be easy to overlook. Your soil needs to have its acid levels in proper balance, lest the lawn become unhealthy. Annual testing is the way to monitor this. Not all lawns are suited to provide all the nutrients necessary during a grass' critical growing season. In circumstances like these, fertilizer can help fill in the gaps. Compost is another way of feeding your grass important nutrients and doing so in a natural and healthy way.
Proper Seeding: Is your grass starting to show some unattractive dead spots? It's time to seed. Even better, is to be ahead of the curve and seed on a cycle that prevents the dead patches of grass from ever occurring. Whether you seed in the spring or seed in the autumn, it's important that this is done strategically, with an eye for how your grass will present itself over the long haul.
Mow, Water & Weed: Don't think we forgot about the bread-and-butter basics of good lawn care. And even here, the precision with which these chores are done can be the difference between a manageable lawn and a lawn that really pops. It's tempting to want your lawn cut down sharp, to allow it to last longer between cuts. But cutting the grass too deeply can expose the blades to more disease. Allowing the grass a little more length can provide valuable protection.
Homeowners can also get in the habit of making sure to mow their lawn in the same direction throughout the entirety of the yard.
Watering is something else that needs to be done with precision. During a dry run in the summer, it's easy to just let the sprinklers keep going. That may be necessary at times, but done to excess, it creates soil problems of its own. Furthermore, over-watering the grass denies the roots the chance to develop more strength.
Very few people really enjoy weeding, but this job is most effective when done regularly and done by natural–rather than chemical–means.
Why Hire a Louisville Lawn Care Professional?
Lawn care work also requires an attention to detail. Damage to soil can have a negative impact on everything from the appearance of your lawn to the foundation of your house and even to the quality of the air you breathe. Putting a professional in charge helps protect you against that.
Benefits of Professional Lawn Care For Your Louisville Home
Hiring a professional lawn care service in Louisville, KY can be an excellent choice for those wanting to achieve and maintain a well-kept lawn. From lawn mowing and trimming to fertilization and weed control, these experienced professionals are able to provide top-quality services at competitive rates while taking the hassle out of lawn care. With service technicians regularly monitoring lawn conditions and applying treatments as needed, you can trust that your lawn is getting the best possible treatment.
We know everyone has a lot of items in their monthly budget. We're also convinced based on experience that making room for a lawn care professional will have value that goes well beyond the short-term line item in the budget.
Improved Quality Of Life - You have a full-time job already. You don't need to spend time on evenings and weekends focusing on lawn care. That's time that should belong to family, friends, and hobbies.
Cost-Effective - We can start with the value of your time itself. But it goes much deeper than that. There's the cost of all the materials necessary to do the job correctly.
Increased Property Value - A good lawn with good soil is a part of long-term property value. Lawn care done right can start recouping costs on the back end when it's time to sell.
The Louisville lawn care service professionals from All In One Landscaping & Hardscaping knows how important small details are to the value of your house in the long term and the quality of its appearance in the short-term. When we meet with a client, we walk the yard. We spend time with them, learning their hopes and goals for their lawn. Then we craft a plan to help make it a reality.